There is a practical way for everyone to help bring the light of Christ into Coffield prison.
JOIN A TEAM FOR A KAIROS WEEKEND: It's a real commitment of time and energy, of course, but everyone who has taken the plunge has come away having contributed and received a blessing quite unlike any other. Email us for additional information.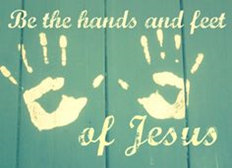 If you are not feeling led by God to join us on a weekend, there are plenty of other ways that you can be the hands and feet of Jesus to the men inside Coffield.
PRAYER: Your prayers are essential to the success of Kairos Weekends. Prayer is the one ingredient that ensures hearts will be open to His Word and for His will to be accomplished.
COOKIES: Homemade cookies by the thousands! It's a Kairos brand that expresses God's grace to residents, officers, and administrative staff. It takes 1,000 dozen cookies for each weekend! That's over 2,000 dozen homemade cookies per year.
(See Cookie Guide and watch the Cookies Saves Lives video)
ATTEND A CLOSING: Come to a Kairos Weekend Closing as a guest and see for yourself how the testimonies of hearts changed by the dynamic power of the Holy Spirit can touch your heart!
(Closing Applications are available in the Forms section of the website)
PLACEMATS: At each meal individually created place mats are provided as yet another outreach message of God's love. A great activity for Sunday schools, preschools, children and grandchildren! All placemats should be drawn on 11x17 paper.
DONATIONS: Certainly no one will be surprised to discover that a Kairos Weekend requires donations. We make every penny count but your individual and corporate financial help is crucial.
SPONSOR AN INMATE: You can help an inmate come face-to-face with the love of God by financially sponsoring an individual for the weekend. Individuals and groups can help sponsor a new life in Christ.
PURCHASE A MEAL: By purchasing a meal ticket you provide a meaningful reminder that each meal has been purchased by a Christian on the outside as a direct expression of God's love. (Printable form available.)
INVITE US TO VISIT YOUR CHURCH: We would love to tell the Kairos story directly to your church. Our select group of public speakers provides a brief and informative addition to any church service!